Learn. Volunteer. Connect. 
New York Housing Conference's Rising Leaders Network (RLN) is a professional organization specifically for emerging leaders working in the affordable housing community in New York. Through networking, education, advocacy and volunteer opportunities, the RLN allows young housing professionals to meet key people, to gain experience and to get involved with issues affecting our industry. The RLN's programming helps connect and foster the next generation of talented leaders to ensure affordable housing in New York remains strong and vital for the future. Membership gives to access to all of the RLN's educational events, advocacy efforts, network, and volunteer days.  Membership is FREE and it's EASY TO APPLY. Just CLICK the "Apply" tab and fill out the application.
Education
The RLN host Summer Seminars and Winter Thought Leader Talks which are free discussions on all issues impacting affordable housing. Become a member to hear about additional RLN educational events later this year.
---
Advocacy
The RLN partners with the New York Housing Conference and the National Housing Conference to provide opportunities for our members to advocate for improved housing policies in Albany, Washington DC, and locally.
---
Networking
The RLN hosts several networking events each year. They are a great way for our members to catch up with old colleagues and make new connections.
---
Volunteering
The RLN hosts volunteer days for our membership by partnering with New York Cares, Meals on Wheels, and other local organizations.
RLN WINTER THOUGHT LEADER SERIES KICKS-OFF WITH PRESENTATION ON CRA REFORM WITH DAVID DWORKIN
Thank you to our moderator, Jaime Weisberg, Senior Campaign Analyst at ANHD for explaining what OCC/FDIC's reform proposal could mean for investment in NYC communities and how to get involved in CRA-related advocacy.
For those who missed the event, the presentation slides can be found 
here
. Also, information on advocacy resources can be found 
here
.
2019 RLN SUMMER SERIES KICKS-OFF WITH MARKETING AND LEASING AFFORDABLE UNITS IN NYC
On Tuesday, June 11th, Rising Leaders gathered at NYU Furman Hall for an informative panel discussion. Industry experts covered a range of topics including an overview of the marketing process, challenges and improvements for Housing Connect (2.0), the Housing Ambassadors program, different marketing strategies for buildings with varying income limits, and marketing and leasing timelines.
RLN WINTER THOUGHT LEADER SERIES CONCLUDES  WITH CONVERSATION BETWEEN COUNCILMAN BRAD LANDER AND RLN MEMBERS
On Tuesday, March 26th, Aliya Brown (RLN member) and Eleor Cohen (RLN Board member) facilitated a conversation with Hon. Brad Lander about diversity and equity in education in NYC. The councilman spoke about the misconceptions around diversity in education, the impact of housing on schools, his work around inclusion and school integration in his district, and what the city can do to reduce housing segregation and racial discrimination in housing.

RLN WINTER THOUGHT LEADER SERIES CONTINUES WITH PRESENTATION ON CRIMINAL JUSTICE REFORM WITH JUDY WHITING
We continued our 2019 Winter Thought Leaders Series with an event disusing the interconnections of criminal justice reform and affordable housing. On Tuesday, February 26th, Judy Whiting, General Counsel of Community Service Society, delivered a dynamic presentation on the impact of Criminal Justice reform on New York. Judy uses her legal practice and work at CSS to inform their policy initiatives and advocacy, as well her work with the New York City and State Bar association. The Q&A segment was moderated by RLN board co-chair, Gary Vizioli who is a Relationship Manager at Wells Fargo. If you missed the event, you are in luck-Judy graciously gave us permission to share her presentation.
Thank you to Judy Whiting and Gary Vizioli for sparking an important and necessary conversation with the Rising Leaders Network.
RLN WINTER THOUGHT LEADER SERIES KICKS-OFF WITH PRESENTATION ON the 2020 CENSUS  WITH DR. JOSEPH SALVO
Census expert Dr. Joseph Salvo delivered a presentation on the importance of responding to the 2020 Census. Dr. Salvo also discussed the challenges in collecting accurate demographic data and its impact on political representation and federal funding. The Q&A segment was moderated by RLN Member, Michael Perles who is a Project Manager at HPD.

RLN SUMMER SERIES KICKS-OFF WITH CONSTRUCTION METHODS 101
On June 13th, an expert panel of speakers including a Developer, General Contractor, Architect and Construction Monitor provided an overview of structural systems, mechanical systems, consideration for exteriors, site logistics, subcontractors, change orders and other key issues that arise during construction.
L+M DEVELOPMENT PARTNERS HOSTS RLN TOUR OF ESSEX CROSSING
On, April 12th, RLN members met in the Lower East Side of Manhattan for a site tour of Essex Crossing. The site utilizes a variety of tax credits to create multifamily housing and will include 1,079 units of residential rental and for-sale housing, of which over 50% will be permanently affordable to a wide range of incomes, including over 192 units set aside for seniors. Thank you to L+M Development Partners for leading the tour. Thank you to LIIF for talking about your investment in this project. And thank you to our RLN board members Amy Stokes and Sara Tempel for organizing this tour.

RLN WINTER THOUGHT LEADERS SERIES CONCLUDES  WITH NYEDC'S JAMES PATCHETT
On Tuesday March 27th, James Patchett, Executive Director of the New York City Economic Development Corporation was the featured speaker for our Winter Thought Leaders Series. James spoke on NYCEDC's role in making the city fairer as a partner in Mayor de Blasio's 10-year plan to create 100K jobs. James elaborated on NYCDC's strategies of investing in new industries, raising wages, and training New Yorkers through its New York Works program. The New York Works program is a series of 25 initiatives to create 100K good-paying jobs in various sectors, including, tech, life sciences, manufacturing, and creative sectors. RLN members Elizabeth Strojan and Edward Ubiera facilitated a Q&A with our audience. Thank you to our speakers for an engaging and insightful conversation about New York's economy and its relation to affordable housing.
RLN WINTER THOUGHT LEADERS SERIES CONTINUES  WITH FAIR HOUSING JUSTICE CENTER'S FRED FREIBERG
On February 20th,  Fred Freiberg, Executive Director of the Fair Housing Justice Center presented "From Apartheid to Living Apart: A Presentation on the History of Residential Racial Segregation and Fair Housing Laws," exploring the interplay of the private real estate sector and government in providing the legal foundation, institutional tools, and financial incentives that created a "dual housing market" and rigid patterns of residential racial segregation in our metropolitan regions. NYC Council Member Ritchie Torres facilitated a Q&A with our audience which touched on barriers that continue to foster discriminatory practices, siting of affordable housing, NYC's housing plan and policies. Thank you to our speakers for a fascinating and inspiring conversation on this important social justice issue!
RLN WINTER THOUGHT LEADERS SERIES KICKS-OFF WITH JULIETTE MICHAELSON, EXCECUTIVE VICE PRESIDENT OF REGIONAL PLAN ASSOCIATION (RPA)
On Tuesday, January 30th, the RLN kicked-off its Winter Thought Leaders Series with  Juliette Michaelson, Executive Vice-President of Regional Plan Association (RPA). Juliette presented RPA's 4th regional plan for the NY-NJ-CT region. Moderators Brandie Moreno and Ivan Levi led the conversation about the plan. Juliette spoke about how RPA plans to get the political support and funds to enact the recommendations in their plan as well as the shared the political barriers in creating and implementing the plan.

RLN SUMMER SERIES CONCLUDES WITH "WELL BUILDING STANDARDS"
On August 8th, at 8:00am, housing professionals gathered at NYU's Furman Hall to learn from experts about the integration of health and housing, and how the WELL Building Standard aids in the development of healthy and affordable housing. Our moderator, Elizabeth Zeldin of Enterprise Community Partners, Inc opened up the discussion by explaining how housing plays a significant role in our health and wellness. Peter Smith from the International WELL Building Institute then provided an overview of the WELL Building Standard, including its health benefits for residents, and how WELL differs from other green standards. Justin Stein explained how Bronx Pro has used tax credits, bonds and other sources to fund 2264 Morris Ave, an affordable multi-family WELL building in the Bronx. Architect Bob Santoriello walked us through some the design and construction features he used to positively impact the health and well-being of future residents in the construction of 2264 Morris Ave, as well as in other buildings he has designed. The panel then explored how WELL Building Standards would work in Rehabilitation and Preservation projects, and how to possibly incentivize the use of healthy design features in future affordable housing projects.
RLN SUMMER SEMINAR SERIES CONTINUES WITH " PRESERVATION THROUGH INCLUSIONARY HOUSING"
We had a great turn out for our July 11th  summer seminar on Preservation Through Inclusionary Housing. Experts explained how the program works, what policy objectives it advances, and how deals using it are structured. Thank you to our excellent speakers: Richard Brown, Rockabill Consulting & Development Louise Carroll, NYC Dept. of Housing Preservation and Development Patrick O'Sullivan, Jr., Cleary Gottlieb Steen & Hamilton LLP Matthew Schatz, TD Bank Eric Usinger, Emmet, Marvin & Martin LLP Thank you to NYU Furman Center for hosting!
RLN SUMMER SEMINAR SERIES KICKS OFF WITH "JOE NYC: STRENGTH IN NUMBERS"
On Jun 13th, the RLN kicked-off the 3rd Annual RLN Summer Seminar Series with a panel about Joint Ownership Entity NYC (JOE NYC).  The panel was moderated by Edward Ubiera and included Marc Jahr, Emily Kurtz, and Peter Madden. The panelists explained how JOE NYC works to strengthen the asset and property management capacity and outcomes of participating CDCs and the industry as a whole; bolsters the cash flow and balance sheets of participating CDCs; enhances the ability of CDCs to secure financing for their development projects; and helps ensure the long-term affordability of the properties in its portfolio and the stability of the communities within which they are located.
BRONX PRO HOSTS RLN TOUR OF 2264 MORRIS AVENUE PROJECT
On May 25, the RLN toured Bronx Pro's cutting-edge 2264 Morris Avenue project in the Fordham neighborhood of the Bronx. The eleven story, 94-unit property will contain a mix of low income, moderate income and supportive housing and is being developed through a joint venture with Services for the Underserved. The project has been designed to meet LEED Gold certification and a pilot program for Building WELL certification. The proposed financing will include New York State Housing Finance Agency Tax Exempt Bonds, a loan from the New York City Housing Preservation Development, Low Income Housing Tax Credits, New York State Medicaid Reform Team (MRT) funding and New York State Office of Mental Health funding. Bronx Pro is aiming to be the first affordable housing project to attain Building WELL status after 21W20 in the Flatiron District recently became the world's first residential project to earn the certification.
RLN HOLDS SPRING HAPPY HOUR AT THE PIG 'N' WHISTLE On May 2, the RLN held its Spring Happy Hour at the Pig 'n' Whistle on West 48th Street. Nearly 70 current and (hopefully) future members stopped by. Special thanks to Jason Rocker for spearheading the planning this time around.
HPD COMMISSIONER MARIA- TORRES-SPRINGER CAPS OFF SPRING "THOUGHT LEADERS" SERIES
We hosted HPD Commissioner Maria Torres-Springer in the finale of its "Thought Leaders" series this week. The Commissioner praised the holistic approach the city applies to housing policy that incorporates economic and workforce development and looks forward to building on HPD's continuing work in this effort. She advised younger professionals in the industry to be prepared to step into the myriad leadership opportunities that will open up over the next several years. Thanks to Commissioner Torres-Springer for speaking with us, Eleor Cohen (Nixon Peabody) and Neala Martin (City Real Estate Advisors) for moderating, and thank you once again to LMHQ for hosting us!
RLN HOSTS JONATHAN ROSE FOR "THOUGHT LEADERS" TALK
The RLN continued its "Thought Leaders" Speaker Series on March 6th with Jonathan Rose, who sketched out the ideas in his book The Well-Tempered City for how cities can holistically meet the growing needs of its residents. RLN members Jennifer Steinberg (WSFSSH) and Andrew Warren (TD Bank) led the conversation as Mr. Rose talked about resource allocation, the nascent revolution he sees building in the urban farming movement, and which cities are doing housing right (hint: it's Singapore). Thanks to Jonathan Rose for speaking with us and thank you once again to LMHQ for hosting us!
"THOUGHT LEADERS" SERIES KICKS-OFF WITH CM RITCHIE TORRES (FEB. 6)
The RLN kicked off its "Thought Leaders" Special Speaker Series on February 6th with NYC Councilman Ritchie Torres. Representing District 15 in the Central Bronx, and as Deputy Leader of the City Council and Public Housing Committee Chair, CM Torres is a staunch proponent of public and affordable housing in New York City. Co-hosts Elizabeth Strojan (Enterprise Community Partners) and Blanca Ramirez (Hudson Housing Capital) led the audience in a conversation with CM Torres covering the importance of affordable housing and how to defend it in light of the new challenges coming from D.C.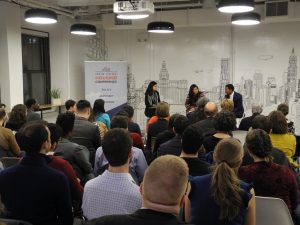 MEMBERS ONLY TOUR OF RIDGEWOOD BUSHWICK'S 803 KNICKERBOCKER PASSIVE HOUSE PROJECT
Thank you to Ridgewood Bushwick Senior Citizens Council for a tour on August 18th of their Knickerbocker Commons, one of the first mid-sized buildings in the nation to conform to Passive House standards. Passive House buildings provide a high level of comfort, air quality and resilience, as well as significant reductions in energy consumption compared to code buildings. Designed by Chris Benedict, R.A., Knickerbocker Commons contains 24 rental apartments affordable to tenants earning less than 30%, 50% and 60% of area median income. Five units are set aside for persons with physical disabilities. We got a look at a unit and the disproportionate amount of space required by building codes to house Knickerbocker's greatly reduced building systems. One interesting tidbit: the building is sealed so well that pressure differences were drawing water up into the basement, necessitating a small hole being created to alleviate the issue. Scott Short did a great job leading the group – which included the building super who told us he's never managed a building this easy before.

SUMMER SEMINAR SERIES: ENERGY EFFICIENCY AND THE PUSH TO PASSIVE HOUSE
We continue our 2nd Annual RLN Summer Seminar Series on July 12th. Building "green" is moving away from an elective exercise towards a fundamental component of multifamily development. Learn how the affordable housing community – including developers and government partners – is leading this change. We will be placing special focus on the growing prevalence of Passive House multifamily affordable development.
The series will be held from 8:00-9:30AM at NYU's Vanderbilt Hall, Room 218 located at 40 Washington Square South. Breakfast will be served at 8am and the panel will start at 8:30am.
RLN KICKS OFF SUMMER SEMINAR SERIES WITH EAST NY REZONING PANEL
On Tuesday, June 7th at NYU, the NYHC's Rising Leaders Netowrk kicked off its 2nd Annual Summer Seminar Series spotlighting the East NY Rezoning. Councilman Espinal walked us through the stresses on the community through the 80s and 90s, continuing through the housing crisis in the late 2000s and how the neighborhood has sustained itself on the strength of its social and cultural institutions. The big three questions facing East New York now are: how affordable will new housing be? How many residents will be displaced? And what kinds of jobs will be available to the community? There is a substantial amount of public commitment to social infrastructure in East New York but there are concerns that growth in the neighborhood will outpace school and community facility capacity. It will be key to track progress on commitments to parks, housing etc. in a transparent way. Anti-displacement tools like a flip tax and harassment protections would add more stability. City Planning is focusing more on comprehensive planning that goes beyond density. There is also a growing push in the agency to be more flexible and responsive to the specific outreach and engagement needs of a given community. It was stressed that public involvement remains a vital factor concerning the equity and effectiveness of future rezonings. Thank you to Councilman Rafael Espinal (District 37), Paula Crespo (Pratt Center), Tawkiyah Jordan (City Planning), Michelle Neugebauer (Cypress Hills Local Development Corp.) and moderator Edward Ubiera (LISC NYC) for making the event such a success!
SEMINAR SERIES SUCCESS CONTINUES WITH CAREERS IN PUBLIC SERVICE PANEL
Thank you to Rich Froehlich (NYC Housing Development Corp.), Bret Garwood (NYS Homes and Community Renewal), Arden Sokolow (US Dept. of Housing and Urban Development) and Karina Totah (NYCHA) for making our "Careers in Public Service" panel such a success. Led by moderator and RLN member Emily Lehman (NYC Dept of Housing Preservation and Development), the panel outlined the various paths that led each of them to the public sector side of the affordable housing world. While the usual academic paths tend to be from planning, architecture or law programs, it was advised that one shouldn't shy away from a more "generalist" path such as a liberal arts program. A lot of technical skills are learned on the job but "soft skills" such as being able to write and to collaborate can be key. One of the primary challenges in public service is the perpetual need for more resources. But other challenges include dealing with the territorial mindset one can encounter in regards to institutional knowledge and figuring out what buttons to push in order to make bureaucracy work. However the rewards of public service are plentiful: * The enduring personal relationships you will develop * The ability to enact change * Figuring out the puzzle of housing needs, limited funding and bureaucracy * The overarching opportunity to be creative because you are able to influence new ideas and see them to fruition * The weight your words carry because you represent an important part of the process * Being continually inspired by seeing the impact of your work on the community The most important career advice given was to find a boss that cares about your development and will nurture your career. But attendees were also encouraged to seek out mentors because people will not only respect your initiative but will also be very willing to do what they can to help you. Special thanks to our series sponsor, NeighborWorks, and our host, The General Society of Mechanics and Tradesmen.
RLN CO-HOSTS MIXER AT THE MUSEUM OF THE CITY OF NEW YORK
On January 20, the RLN co-hosted a young professionals mixer at the Museum of the City of New York. The evening included a wine reception and a special tour of the Museum's Affordable New York exhibit on the history of affordable housing in the city. Thanks to all who attended this members-only event and special thanks to the Museum's Young Member Circle and NYSAFAH2G for partnering with us!
Click here to view slideshow of event photos
Career Seminar Series Kicked Off Tuesday with "How to Become a Developer" panel
Thank you to Amy Casciani (PathStone), Martin Dunn (Dunn Development), Aaron Koffman (The Hudson Companies) and Eli Weiss (Joy Construction) for helping us to kick-off the Career Seminar Series so successfully. Led by moderator and RLN member Charlotte Abrams (L+M Development Partners), the panel outlined the various paths that brought each of them to affordable housing development and the fundamental importance of knowing your market as a first step towards successful projects. They also stressed how vital it is to build a trusted network not only as development partners but as resources for the many questions one should ask as he or she builds a knowledge base. Other keys to successful development include: * Creative design opportunities grow out of working with contractors and architects who are practical and don't waste money; * There will always be problems; developers get paid for confronting these problems and staying in front of them; * A developer embraces the expertise of his or her team and is responsible for picking a direction. Some policy ideas put forth included more emphasis on a regional approach to addressing affordable housing needs; countering the NIMBYism in response to calls for more density; crafting a flexible housing plan that realizes the different needs of New York City, rural communities and upstate cities; and compartmentalized resources at city agencies to streamline the approval process for affordable housing projects – for which time delays are more painful. Special thanks to our series sponsor, NeighborWorks, and our host, The General Society of Mechanics and Tradesmen. See you in February!
NEWBURGH LAND BANK AND BREWERY TOUR
Date: Friday, October 30th, 2015 Time: 12:00pm – 6:00pm Location: PICK-UP POINT: To be announced Event Description: Impressive architecture, young entrepreneurs and new development. Here's your opportunity to see what's exciting about the next wave of urban renewal happening just north of New York City. Transportation provided but space is limited. Sponsored by the New York Housing Conference Rising Leader Network (RLN) Tentative Schedule:
12:00PM – Meet in New York City (transportation will be provided)
1:30PM – Meet with the Newburgh Community Land Bank and City Representatives
2:30PM – Site visits and historic property tour
4:00PM – Tour and drinks at the Newburgh Brewing Company
6:00PM – Return to New York City
RLN Fall Happy Hour Networking
Date: October 7, 2015 Thanks to the nearly 70 young housing professionals who came out to the Pig 'N' Whistle. See you in the Spring!
RLN Summer Seminar Series: NYC Zoning Improvements
Date: August 11, 2015 The RLN wrapped up its Summer Seminar Series with its third panel discussion hosted by NYU Furman Center for Real Estate and Urban Policy. Moderated by RLN Board Member Justin Stein (Bronx Pro Group), CHPC's Sarah Watson provided a rundown of the sometimes unforeseen impacts of zoning regulations; DCP's Frank Ruchala corroborated and made the case for City Planning's new slate of zoning regulation changes including a reduction in the amount of required parking for senior housing developments within half mile of a train station. Tony Shitemi of Urban Architectural Initiatives explained how architects respond to challenges created by the zoning text while Monadnock's Tobias Oriwol provided the developer's perspective.
RLN Summer Seminar Series: Overview of HUD's RAD (Rental Assistance Demonstration) Program
Date: July 14, 2015 Thanks to NYU Furman Center for Real Estate and Urban Policy for hosting NYHC RLN Summer Seminar on RAD yesterday. The Rising Leader Network hosted an expert panel moderated by Nixon Peabody's Meghan Altidor on HUD's Rental Assistance Program as part of its Summer Seminar Series. Nixon Peabody's Deborah VanAmerongen walked the audience through the history of the RAD program and how it connects older generation HUD rental assistance programs with "newer" ones like LIHTC. Nicole Ferreira outlined NYCHA's initial forays into the program, stressing their emphasis on tenant protections and touching on the unique challenges RAD presents to a public housing authority. The RAD program was heralded by panelist Roger Harry (NYS HCR) as an exciting and unique tool that allowed the state to tackle the capital needs of the Mitchell-Lama portfolio, including the intricacies of Section 236 decouplings. L+M Development's Rick Gropper described how RAD is structured to allow developers to take on more debt. However he added that RAD's unique requirements introduce some new risks.
The Rising Leaders Network is a diverse group of young affordable housing professionals committed to strengthening the industry through public policy, community service and developing ties with other affordable housing professionals.
Name: MICAH HUNTER, Board Co-Chair
Organization/Title: Project Manager, NHP Foundation
Bio: Micah Hunter is currently a Project Manager of the acquisition/development group at The NHP Foundation. He is primarily responsible for the acquisition, management of financing, development, and preservation of multifamily housing in NYC and around the Country. He previously worked as a Senior Project Manager at B&B Urban LLC, a firm that focuses on affordable and supportive housing and some market rate development. At B&B Urban LLC, Micah worked on the adaptive re-use of a six-story historic former commercial structure into live/work lofts apartments and two ground floor commercial spaces in Baltimore, MD (Crook Horner Lofts). Micah also participated in the construction financing of a 170-unit new construction 4% Bond LIHTC two-building project in the Bronx (Williamsbridge Gardens), secured a Project Based Section 8 Award, and lead requisitions in construction. He assisted in the conversion of a 100-unit new construction 4% Bond LIHTC project in Brooklyn as well (Linwood Park Apartments). Micah obtained a Master's degree in Urban Policy and Management at The New School (Milano) where he focused his studies on community development and real estate finance and is a HPD-HDC Housing Fellow Alumni and Mayor's Graduate Scholar. He also has extensive social work background as worked seven years in child welfare/juvenile justice at NYC Administration for Children's Services. Prior to this, he obtained a B.A. in Psychology from Hampton University as well as a Master's degree in Human Development from Virginia Tech.
---
Name:
PETER PROCIDA, Board Co-Chair
Organization/Title: Development Associate, Procida Development Group
Bio: Peter Procida works as the lead project manager for Procida Development Group LLC projects. In his time with the company, Peter successfully led two rezoning efforts, led two sites through the New York State Brownfield Clean Up Program, and closed on construction financing for over 450 units of affordable housing in New York City. Peter has a Masters in Management from Duke University's Fuqua School of Business and a Bachelor of Arts from Harvard College.
---
Name: CASSANDRA ANNE O'HEARN
Organization/Title: Urban Planner
Bio: Cassandra is an urban planner dedicated to preserving and developing affordable housing and walkable, equitable neighborhoods. She moved from the West Coast to the West Village while completing her Masters in Urban Planning at New York University and settled in Fort Greene, Brooklyn after graduation. Cassandra remains dedicated to protecting and preserving affordability and diversity, especially for residents of low and median income communities.
---
Name: SAMUEL BIELE-FISHER
Organization/Title: Vice President of Affordable Housing Services, Bright Power
Bio: Samuel Biele-Fisher is the Manager of Affordable Housing Services at Bright Power, leading energy management and engineering firm that works primarily with multifamily building owners and developers to reduce their utility consumption and spending. Sam specializes in working with affordable and supportive housing providers, including both for-profit and not-for-profit companies and organizations. Prior to joining Bright Power, Sam served as a client and program manager at a local non-profit helping manufacturing companies control their energy usage, locate affordable real estate, and identify government resources so they could continue to operate in New York City. In addition to his professional work at the intersection of energy efficiency and affordable housing development, Sam is a board member of the New York Housing Conference Rising Leaders Network. He has presented twice about energy management and distributed generation at the annual New York State Association for Affordable Housing (NYSAFAH) conference and is a member of the Northeast Sustainable Energy Association (NESEA) Content Committee that curates programming for its annual BuildingEnergy NYC conference. Sam holds a B.A. from the University of Michigan and a BPI multifamily building analyst certification. He and his wife live in Brooklyn.
---
Name: JOANNA CUEVAS
Organization/Title: Acquisitions and Development Project Manager, The NHP Foundation
Bio: In 2020, Ms. Cuevas joined The NHP Foundation as an Acquisitions and Development project manager where she is responsible for the financing, development and preservation of multifamily affordable housing through the use of the Low-Income Housing Tax credit program and HUD financing. Prior to joining NHPF, Ms. Cuevas extended her expertise in construction management and project management to a variety of residential, mixed-use and commercial projects located in the Greater New York/Long Island area, New Jersey, Connecticut, Pennsylvania, California, and most recently in Massachusetts and Illinois. This experience includes notable commercial fit-outs at Hudson Yards and 3WTC as well as 100% affordable and supportive housing developments, including partnerships with public housing authorities and local nonprofit organizations.  Joanna earned a Bachelor of Arts degree in Sociology from Pitzer College and a Master degree in Architecture from the Pratt Institute.
---
---
Name: WILLIAM D'AVELLA
Organization/Title: Developer, Pennrose
Bio: William D'Avella is a real estate development professional with experience managing the full life cycle of mixed-use, public-private projects with complex financing and partnership structures.  William is a Developer at Pennrose where he directs projects in varying stages of development located throughout New York State.  He holds a Master's of Real Estate from New York University and a Bachelor of Arts from Tulane University.
---
Name: PALAK KAUSHAL
Organization/Title: Deputy Chief of Staff, NYC HPD
Bio: Palak Kaushal is the Deputy Chief of Staff at the NYC Department of Housing Preservation & Development (HPD). She works closely with the Commissioner and senior staff in advancing the agency's housing priorities, including tracking the agency's progress on the Housing Our Neighbors blueprint. She holds a Master's in Public Administration from the New York University Wagner School of Public Service and a Bachelor of Arts from Montclair State University.
---
Name: JOYCE KWON
Organization/Title: Senior Development Associate, The NRP Group
Bio: Joyce is a Senior Development Associate at the NRP Group, where she focuses on advancing the company's affordable housing projects in New York State and New York City. She previously served as a director on the New Construction Finance team at NYC's Department of Housing Development of and Preservation overseeing affordable homeownership and 9% LIHTC projects. Prior to HPD, she worked at the Center for New York City Neighborhoods, where she was an integral part of the policy and communications team that ignited the community land trust movement in NYC. She currently sits on the Young Professionals Board of Habitat for Humanity NYC and Westchester County, where she continues to support the work of providing affordable homeownership opportunities to low- and moderate-income New Yorkers. Joyce hold a Bachelor of Arts in Architecture from Washington University in St. Louis as well as a Master of Urban Planning degree from NYU Wagner.
---
Name: MELISSA MINNICH
Organization/Title: Senior Manager of Marketing & Communications, Spence-Chapin Services to Families & Children
Bio: Melissa is the Senior Manager of Marketing & Communications at Spence-Chapin Services to Families & Children, where she works to find homes for those who need them most. Previously, she worked in affordable housing, advocating daily for economic justice and tenants' rights in New York City and New York State. Melissa is a Fellow at the Urban Design Forum, and she was a 2018 Forefront Fellow in which she and her colleagues partnered with the City to develop new solutions to turn the tide on homelessness in New York City. Melissa holds a Master of Arts in Media, Culture, and Communication from New York University.
---
Name: ROBERT POOLE
Organization/Title: Project Manager, Bronx Pro Group
Bio: Rob Poole is a Project Manager with the development team at Bronx Pro Group. He works closely with lenders, investors, and government agencies to close on construction and permanent financing for the company's affordable housing properties. In previous roles, he worked at HPD on their Preservation Finance team and at a housing advocacy nonprofit in San Francisco. Rob decided to move to New York after listening to Empire State of Mind every day for a year. He holds a BA in Anthropology from UC Berkeley.
---
Name: ALEX RAWDING
Organization/Title: Deputy Director of Mixed Income Programs, Division of New Construction Finance, NYC Department of Housing Preservation and Development
Bio: Alex Rawding is the Deputy Director of Mixed Income Programs at the New York City Department of Housing Preservation and Development. At HPD, he manages the predevelopment and financing for a pipeline of new construction projects throughout the City. Previously, he worked in real estate development, policy research, and community outreach in Seattle and NYC. Alex holds a Master in Urban Planning from Harvard's Graduate School of Design and a Bachelor's degree from Pitzer College.
---
Name:  JOSHUA ROSENBERG
Title:  Multifamily Finance Underwriter, New York State Housing Finance Agency
Bio: Joshua works at the New York State Housing Finance Agency, where he is primarily responsible for underwriting and project managing 4% LIHTC projects throughout the State.  Before joining HFA, Joshua worked in urban development research and real estate development.  Joshua holds a master's degree in sociology from the London School of Economics and Political Science and a bachelor's degree from the University of Miami.
---
---